Occasions, wedding ceremonies, and festivals are the most exciting events for girls and all these events seem incomplete without Mehndi on their pretty hands. Girls love to dress up and get ready for the events but the thing that is of utmost importance in their preparations is to draw fascinating and captivating Mehndi designs on their hands. Applying Mehndi is a custom in both Indian and Islamic cultures. So, whether it is a wedding event, Eid, Diwali, or Basant girls love to apply adorable Mehndi designs on their hands to make them look more and more pretty.
  Types of Mehndi Designs:
There is so much diversity when it comes to the types of Mehndi designs. There are a lot of exclusive and enchanting types and Mehndi patterns that girls love to apply on their hands and feet as well. For instance, there are Indian Mehndi designs, Turkish Mehndi designs, Pakistani Mehndi designs and so much more. As everyone has a different taste some girls like to fill both sides of their hands with different heavy and floral. Unlike, some girls just like simple and a little touch of it on their hands.
 Easy Arabic Mehndi Designs:
An important concern of girls regarding Mehndi is that not every type of Mehndi design goes with every outfit. So, to help you with this problem we have chosen the most sophisticated and loveable designs of Mehndi design that are Arabic Mehndi Designs. These designs are not only easy and simple but they are also the most beautiful ones plus they go with every outfit.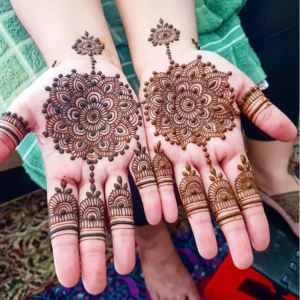 There are a lot of ravishing patterns like; traditional, full hands designs, half hand designs, and so on, all of them have their grace. What are we waiting for then? Let's check out some exquisite and easy-to-apply patterns of Arabic Mehndi. In this article, we have provided the most trending and artistic Mehndi designs that will enhance your look and add more to your style.
1. Simple Round Mehndi Design:
This is the most elegant and evergreen Arabic Mehndi pattern. You can apply it to any event because it is so classic and easy to draw. The beautiful details on the fingers make it look more appealing.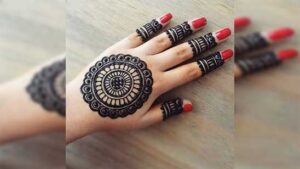 2. Front hand floral design:
This flowery pattern is so breathtaking and chic. The combo of simple floral design and darker Mehndi outline will make your hand look so elegant.
3. Simple Motif Design:
Here is the most graceful motif Mehndi pattern. It will be a perfect choice if you want to keep it simple but stylish at any event. The subtle motif in the middle of the hand will look perfect combined with the refined design at the fingers.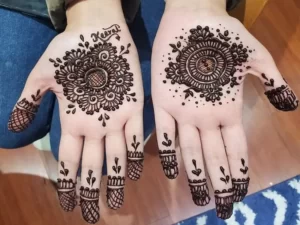 4. Traditional Pattern:
Last but not the least, we are presenting you with the most enriched and full of style patterns of Arabic Mehndi design. It is a vintage design for full hands. It looks best with traditional Asian clothing like Saree or Lehnga.
Overview:
In this article, we have listed the most fabulous type of designs, the one, and only Arabic Mehndi designs. Arabic mehndi is full of elegancy and style and it goes with every outfit. Moreover, it does not require too much struggle or effort to apply and it doesn't require a lot of time. So, if you are fond of applying Mehndi on every occasion then this article is surely for you.