Bridal Mehndi Designs
There isn't a girl who doesn't love mehndi. Adorning mehndi on hands and feet is a tradition in our culture. Women, girls, and baby girls embellish their hands and feet with various mehndi designs on special occasions. Men also wear mehndi during their wedding. Did you know that mehndi is a coolant?
Mehndi has various uses like conditioning, colouring and even henna designs. Mehndi on hands is the most common comparatively feet. There are different designs of mehndi like Arabic, Traditional, Kids, etc. Females love to adore their hands on two most special events of their life: Eid and when she becomes Bride. Here are Bridal Mehndi Designs,
90's bridal Mehndi designs:
In older eras, whenever a girl is set to be a bride the most basic part is to beautify her hands and feet with mehndi. It was a common ritual to simply embellish her hands with red mehndi.  A big circle in the centre likewise wadding the upper part of the finger in mehndi, like so on the feet's respectively.
Modern era bridal mehndi designs:
Nowadays professional mehndi artists are invited to emblazon their beautiful designs on hand. A proper function is arranged known as Mehndi. At the Mehndi function the bride's friends, cousins, and relatives along with some special guests greet them. All the friends, cousins, and siblings embellish their hands with mehndi by interacting with professional mehndi artists. One of the traditional rituals is that all of the guests fill the bride's and groom's hand with mehndi on a leaf and place it on their hands.
Bridal Mehndi Designs
Nowadays a vast diversity of bridal mehndi designs is accessible. Bridal mehndi designs are sometimes colourful with black and red henna along with some glitters. Some brides favour simple designs, but some brides prefer complicated designs.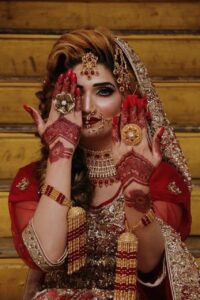 Trending dulha dulhan mehndi design:
A new trend is set by imprinting the bride and groom on hands by mehndi. It is an attractive yet unique bridal mehndi design. It is drawn by adding several details like the bride's lehenga details, the groom's sherwani details as well as bride's jewellery. It is a time-consuming design but looks stunning.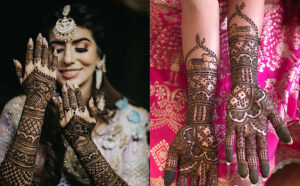 Imprinting groom's name mehndi design: 
A cute and decent design, the bride adores her hands by writing the groom's name by using mehndi, along with a circular floral design. It looks appealing to the groom.
Elephant Bridal Mehndi designs:
If a bride plans to decorate an elephant design on her hand for her special day. Along with the set of unique floral and unique motifs, in this way, the elephant nicely blends and adds more details to the pattern. These designs look stunning adding a royal look.
Elegant bridal mehndi designs:
Brides looking for elegance and simplicity in the patterns choose these kinds of designs. Diamond pattern with tiny dots in the centre of the diamonds. These designs are imprinted on both the palms with floral motifs to one side of the hand by glamorizing respectively.
Quirky and simple bridal mehndi designs: 
If the bride loves to infuse 2 designs in one pattern, Arabic designs are the best infusion.
This design is drawn by adding beautiful jhumkas with infusion to Arabic design likewise by adding floral patterns at the side. The design is simple for a bride but is eye appealing.