Momina Iqbal, a Pakistani actress, is stunning; plus, she started her career as a model in the fashion industry. Momina has worked on numerous ads for major Pakistani apparel labels, including Nishat Linen. Later, she transitioned to the small screen and made her acting debut on Bol Tv's drama show Parlour Wali Larki. Momina Iqbal biography is available here for her admirers and followers.
On social media, Momina has a large following. If you're a fan of hers, you should read this page all the way through. We've included all of her details, including her age, family, husband, sister, and a list of her dramas. So, let's look at Momina Iqbal's biography and learn some intriguing information you didn't know about her.
Momina Iqbal is a Pakistani actress who hails from Lahore. However, many other websites state that she is a Karachi native. I want to inform you that Momina Iqbal stated in her interview with Something Haute that she is currently living in Lahore.
Biography
She rose to prominence as a result of the drama Ehd e Wafa. She recently starred alongside Feroze Khan in another hit drama series, Khuda Aur Mohabbat 3. With her outstanding performances in both dramas, she earned the hearts of millions.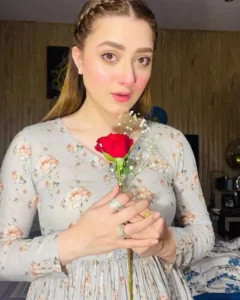 Momina is one of those superstars that rose to prominence in a short period. Her daring and impressive demeanor has made her highly popular among followers. She is, without a doubt, a rising star in the Pakistani entertainment business. You can learn more about Momina Iqbal's life in the parts below.
| | |
| --- | --- |
| Full Name | Momina Iqbal |
| Date of Birth | 23 November, 1992 |
| Age | 29 Years Old |
| Birth Place | Lahore, Pakistan |
| Height | 5 feet 7 inches |
| Weight | 57 kg |
| Body Measurements | 34-26-34 |
| Hair Color | Dark Brown |
| Eye Color | Light Brown |
| Marital Status | Unmarried |
| Education | Graduated from Lahore |
| Profession | Actress & Model |
Family of Momina Iqbal
She is from a middle-class family living in Lahore, Pakistan. Her father works at a private office as an employee, and her mother is a housewife. She has two brothers and a younger sister.
Momina's Father
Momina Iqbal's father is a stern man who did not want his daughter to work as a model or in the entertainment industry. But she had decided to become a model, and she began her modeling career in secret from her father. A few months later, her father found out about her job when her billboards were up all around Lahore.
Momina's Mother
Momina's mother is a kind woman who encouraged her daughter to pursue her ambition of being an actor. Here are some lovely photographs of Momina Iqbal with her mother.
Momina Iqbal's Sister
Her younger sister has a legal degree and is presently doing CSS. She is a lovely young lady who is currently pursuing her education and has no ambitions to pursue a career in show business. Momina and her younger sister are close.
Brother
Her younger brothers are both students in Lahore.
Husband
Momina Iqbal is not married yet.
Her Career in the Entertainment Industry
In 2017, she began her modeling career. She worked on numerous photoshoots for major fashion houses, including Nishat Linen. Nadia Afghan, an actress, and director approached him in 2018 and offered him a role in one of her new films. She agrees to work in Nadia Afghan's new drama series Polar Wali Larki later on. On Bol Tv, her debut drama, Polar Wali Larki, premiered. She played the character of Maryam in the film.
In 2019, she played Tabeer in the drama series Ajnabi Lage Zindagi. She also made her film debut in 2019 with the Pakistani film Daal Chawal. Momina Iqbal played the role of Sonia Khan in the film and made a reputation for herself in the Pakistani drama industry by working day and night tirelessly. She is presently one of Pakistan's most well-known actresses.
Dramas Starring Momina Iqbal
Khuda Aur Mohabbat and Laapata are the two dramas in which she is now acting. She plays Naheed in the drama Khuda Aur Mohabbat and Aliya, Daniyal's former wife, in the drama Laapata.
Dramas Starring Momina Iqbal
Here are enlisted the dramas in which Momina Iqbal acted;
Ishq Mein Kafir
Ehd-e-Wafa
Parlor Wali Larki
Ajnabi Lage Zindagi
Bhool Ja Aye Dil
Khuda Aur Muhabbat 3
Sila e Mohabbat
Laapata
Social Media Accounts
On July 20, 2016, she started an Instagram account. She now has over 330k followers on her Instagram account. momina.iqbal is Momina Iqbal's Instagram handle.